Chubby the Snowman
Making a 15 foot snowman
In January 2017 my fiancee and I started a vlog-style series on Youtube called This Weekend. Every weekend we do something different and fun and document it. About seven weekends into this series we had a huge snowfall. Mike texted us that we should do something cool with all the snow for a video. We decided to make a massive snowman on his front lawn.
The next morning we got up bright and early, suited up and got started. We didn't exactly have a plan on how to construct the snowman, but we knew we wanted it to be about 20 feet high. As soon as we got started we realized the best thing to do would be to focus on piling up a ton of snow first. Phase two would be to shape it into something that resembles a snowman. So Mike brought the snowblower out and we used our bodies to block the snow so it would land on the pile. Once we realized this was a bit ridiculous, we started to use a tarp to block the snow. We later coined this "The Tarp Method" (patent pending).
This snowman seriously blew up
We were still building the snowman when news trucks were already showing up to get footage of us making it. We finally put his scarf on around 7pm and headed in for the night. The next morning at 8am I woke up to a phone call from CTV. They were at Mike's house and hoping to do a video interview in front of the "giant snowman."
I threw on some clothes and drove over to Mike's. As soon as I pulled up there were already people parked all over the street coming to have a look at this snowman. The whole day my phone and email were blowing up with non-stop news and media requests. Everyone wanted to do radio interviews, newspaper articles, and TV interviews with us. Turns out, people like snowmen.
How he got the name "Chubby"
In the very first interview, they asked me "does he have a name?" before we had even come up with a name for him. So I turned around, looked at him and said, "Well, he's kinda chubby… how about Chubby – Chubby the Snowman?" And just like that, he was international news and consistently referred to as "Chubby the Snowman."
We always film on the weekend but don't upload the YouTube video until the following Friday. So because we were nowhere close to having our full video ready, we put up a sign with our contact information. That entire week we woke up to more and more emails and phone calls from the media every single day. We got requests for everything from radio interviews to live TV studio interviews. A media company out of the UK even wanted to buy some video footage of us making the snowman.
The amount of press this thing was getting was pretty crazy. And it kept up for the full week. A constant lineup of cars was parked outside of Mike's house. Everybody wanted to have their picture taken with our snowman. It was all a bit of a blur, but the moment it really sunk in that this snowman was blowing up is when Yahoo! changed their Facebook cover photo to a picture of Chubby!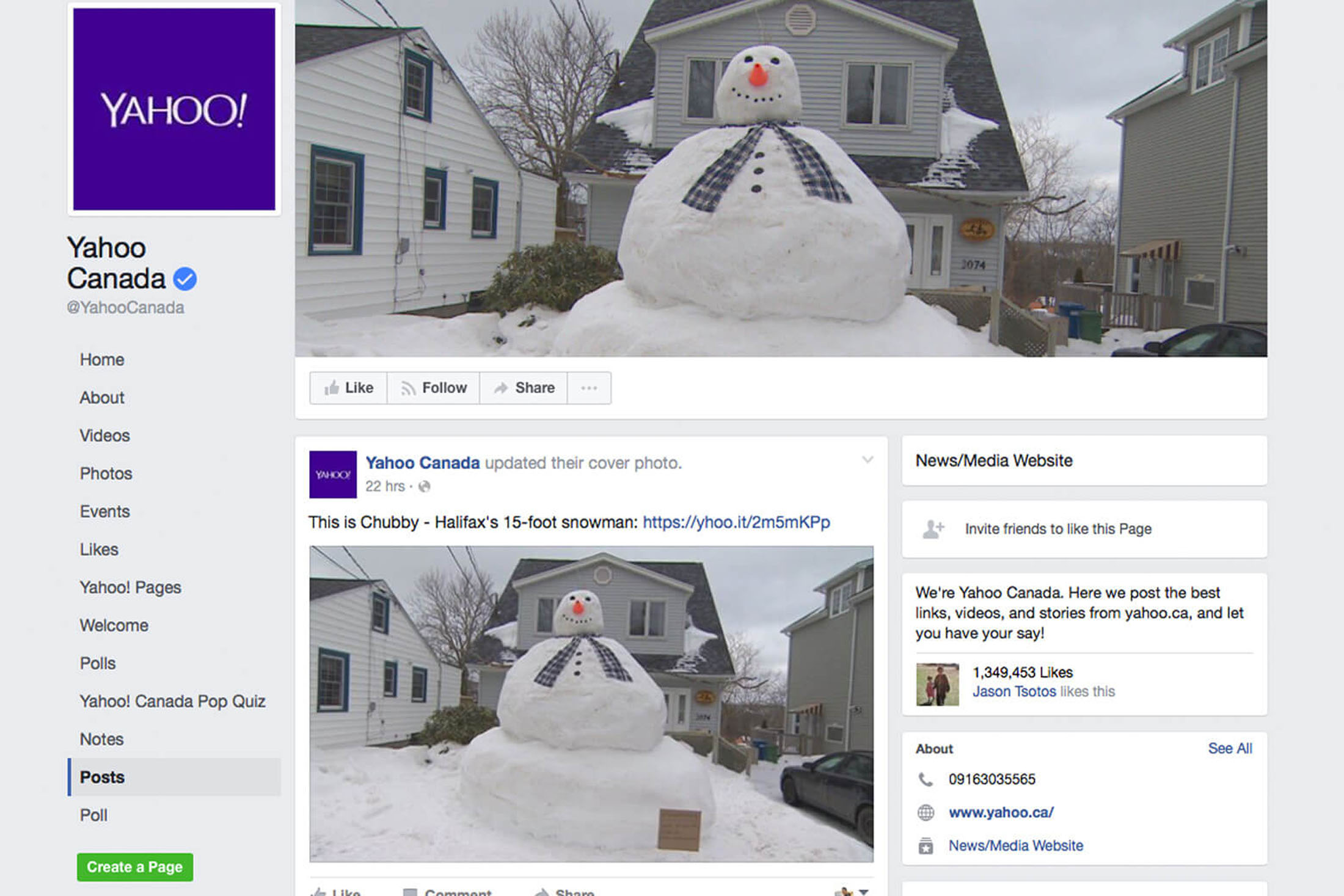 So yeah, thats the story of how we made what must be the world's most famous snowman. Frosty is a close second.